Meet the friendly, professional and helpful front-desk faces of Hip Sport Spine Physiotherapy.
Michelle is the practice manager- she keeps the practice running and keeps everybody in line. Michelle brings to the practice a wealth of experience in customer relations, having worked in various businesses and retail establishments in Toowoomba for many years.
Michelle can solve any problem and is an expert at finding appointment times for patients in need of urgent physiotherapy treatment!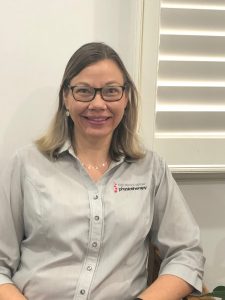 Petrina shares the reception space with Michelle, so is one of the friendly faces you'll see when you arrive at Hip Spine Physiotherapy.
Petrina is a keen runner and enjoys competing Park Run every week.